Back when I was just a wee little boy, my Father and I would constantly watch basketball on TV. For the longest time, I wanted nothing more than to be a pro basketball player. I played all through grade school, middle school, junior high and high school. I was an excellent shooter and had a great knowledge of the game. I wasn't the most athletic, but dammit -- I was talented. When I realized I would barely top 6 feet tall and my Achilles tendon exploded inside my leg (not that I was super fast anyway), I soon accepted my fate and began plotting my way to Hollywood.
First time I ever saw my "new" ankle..
But back when I was living in a "basketball only" world, I learned a lot of valuable lessons that I still keep with me today. Many of them being about working with others. Teamwork. Teammates. Leadership. Sacrifice. All things that are insanely relevant to me today.. and I haven't set foot on an organized basketball court in years.
If anyone has ever noticed, or worked with me, they'll know that I like to have unique title pages on my scripts.. Not because I want to be different, but because I feel like having a unique title on the front of our script, our battle plan makes us feel like a team.. TEAM Madison County.. TEAM Roadisde.. TEAM Contracted. Unity is very important to me. I like to feel like I'm part of something.. with other people that WANT to be a part of what I'm doing.
Keeping with tradition of wanting to be a apart of something.. when my Father passed his number down to me, it became a symbol that I wore proudly. Something I wore with honor and pride.
33
Still to this day, you can find me usually wearing my basketball number in some form or fashion. I have hats, jackets, T-shirts, etc. I fell in love with the number for many reasons.. first of all, it was my Dad's. What son doesn't want to wear the number of his Father? My Dad's high school team would go on to win the State Championship his senior year of high school.. it was something that he, and many people in the small town in which I grew up, would never let me forget.. or live down. I HAD to match that. My senior year? I was in a wheel chair and crutches.
From as far back as I can remember.. this was in middle school.
A news paper article from "back in the day", with my Mother looking on in the background to my left.
My Father and I on the night of the MADISON COUNTY premiere.. and OUR basketball number.


Dad and I after accepting the Audience Award at the Little Rock Horror Picture Show.. sporting OUR number on my jacket.
But the number remained mine through my entire career. If the number was available, I was wearing it. Aside from my Father wearing it, my favorite player wore it.. Larry Bird. Bird wasn't the most athletic, or best player on the court.. but dammit, he was talented. He played hard and he was a leader. But being a leader means also knowing when to follow.. Bird knew that too. Another reason? Eric England.. EE.. 33. It was just meant to be. But the last and final reason? My Father told me about when he was in school, he once played against Scottie Pippen. Scottie would go on to play for the Bulls and win SIX NBA Championships alongside Michael Jordan, not to mention being included on the roster for the 50 Greatest NBA Players.
This is basketball.. the way I remember it. (I watched a lot of ESPN Classics).
When people thinking about the NBA, The Bulls, or hell.. even BASKETBALL -- Michael Jordan's name is usually one of the first things mentioned.
He was a leader. Born. Bred. The man was amazing.. but many people forget that Michael Jordan didn't win every game by himself.. he had a team.. a team of AMAZING players.. and his right hand man? Scottie Pippen.
When I moved to LA, I wanted to be Michael Jordan. I wanted to be the leader. I learned that really quickly. A lot of my life I wasn't Michael Jordan.. hell, I wasn't even Scottie Pippen. I was more of a Steve Kerr. I would come in and win the game if people needed me to, but I liked to keep to myself. I would stand out and "Wow" the crowd sometimes. I definitely made my presence known (kinda like Dennis Rodman), but in terms of forging a path? Rarely ever was I at the front.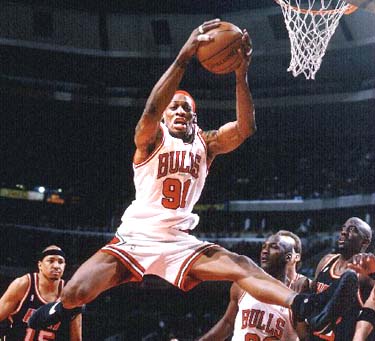 When I started film school, I realized quickly that I was going to take charge. I had ideas. I had (some) knowledge.. but beyond all that, I had
drive
. I wanted to succeed. I wanted to do things my own way.. for the first time in my life, I WANTED TO LEAD.
So when I got out, that's when I grabbed life by the horns (Bulls, since they're topical at the moment). I started writing scripts, creating ideas, networking, putting together all the pieces of the puzzle to be my team. Along the way I've found several amazing members. I've found my Luc Longleys.. My Dennis Rodmans.. My Ron Harpers.. but never my Scottie Pippen? Why.. because in this town, most people want to be Michael Jordan.
Whenever a movie is getting made.. there's usually one or two people that really get most of the attention. It's either the director or the actor(s). Sometimes, you see a case like The Asylum or Roger Corman and it's about the company behind the film.. the money people.. They're the Jordans. But most of the time, they're not getting the spotlight because they're getting the money.. And that's more than enough.
I assure you, for as much money as Michael Jordan was making.. the people above him and signing his checks, were making MUCH MUCH more money. But the difference? He got the spotlight. That's usually the trade off in this industry. I didn't come out here wanting popularity, or limelight. I didn't seek fame.. I seeked success. Success is defined very differently for many people. For some (myself included)- It's
happiness
. Most of the world considers it
money or fame
.. but for those who truly know what success is.. it's happiness. Hell, Michael Jordan left basketball for baseball seeking "success".. to be happy. To be fulfilled.
But along the way, I've found people that I've worked with that I want to work with for the rest of my life. Some of them are working on being their own Jordan and looking for their own Pippen.. they want to build their own support system, but when called upon, they will gladly come join my team and for that, I am forever grateful. I would do the same for them.. which is where the word "TEAMWORK" comes in. You support your team.. no matter what. In everything they do.
In this journey of leading, I've also had to learn to follow.. I like to be in control. That's part of being a leader.. but I also know when to follow. I also know when to step aside and learn something.. Jordan did this numerous times in his career. He would let Pippen take the reins if he was having a bad night. He would assist Pippen.. but when the clock was close to zero and there was only time left for one shot.. JORDAN was getting the ball. Not because that's how it happened.. because HE WANTED IT. Being a leader means hitting the big shots.. and sometimes missing them. When you hit that big shot, people shower you with attention and affection.. but if you miss it.. it's all your fault. That's the best part of being a leader, in my opinion. You get to share the credit with the team for the big win (because no one ever does anything by themselves) and you get to take the blame in the loss.
A lot of people forge that in this town. They're so busy wanting their own spotlight.. their own validation, identity that they forget who they are and what their role on their "team" is. If Pippen wasn't a true friend and team player, he would have said "Fuck it" and went to his own team where he could lead. But he knew a good thing when he saw it. He knew that he would never be Jordan.. He would always be in Jordan's shadow.. but he knew he was part of an amazing system and he was still a winner. And that's what this town needs more of.. people that want to be WINNERS and not just FAMOUS. It's a lonely place at the top (so I'm told), but when you find people that don't want to steal what you have.. but embrace it because they were a part of it.. that journey and that position at the top (which you then SHARE with them) can be a lot happier place.